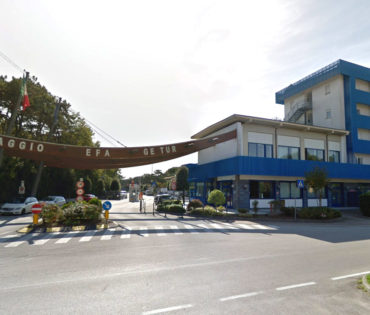 A large and beautiful pinewood is the setting of a well-equipped sports complex with an indoor pool, football, five-a-side fields, basketball and volleyball fields and tennis courts.
A modern structure located on the beach in Lignano Sabbiadoro, where you can enjoy concerts, tournaments of beach volleyball, beach rugby, beach soccer and much more.
The Junior Park offers a park immersed in the nature, with many rides where you can spend carefree hours.
Completely renovated in 2015, the cinema offers a cozy atmosphere. You can watch every kind of films, especially for families, attend theater performances and concerts and take part in meetings. In summer the CineCity moves to the beach!
Modern and functional arena where you can attend concerts of Italian and international groups and singers. It is located in a quiet and accessible park, with free parking.
Our private beach is at the beach office 18, facing the hotel and accessible from the new modern sea promenade, just renovated.